Instructions For Using UNISEAL®
1. Cut hole to the Holesaw size indicated for the UNISEAL® you are using
Example 3" UNISEAL® = 4" Hole (Holesaw)
2. Ensure the hole is clean cut with sharp edges. Irregularities could cause poor seating and ultimate leakage.
3. Insert UNISEAL® into hole with the wideside facing the pipe to be inserted.
4. Make certain that the pipe end to be inserted is clean cut. File the edges so that there are no sharp points to cut the UNISEAL®
5. Using Detergent, lubricate the outside of the pipe end to be inserted, then push the pipe through the UNISEAL® from the large flange side.
The detergent will be squeezed off as the pipe passes through the UNISEAL® The co-efficient of friction of the rubber holds the pipe tightly in place.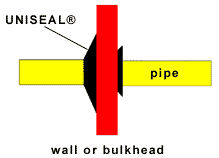 Shipwright Agencies Limited are the sole distributors in New Zealand
Should you need to contact us for any reason or would like to order "The World's Best Seal" then our contact details are listed below:-
Shipwright Agencies Ltd
PO Box 412
Whangaparaoa
Auckland 0932
New Zealand.
Tel:- +64 9 524 8639
Fax:- +64 9 524 8731
Mobile:- 021 0230 4235
Email:- sales@shipwright-agencies.com
For general details click here